With the New Year holiday already a distant memory, it is time to ask what has been accomplished in terms of marketing for your business and brand.
Before you utter, "Whoa, it is only February," think about this: According to the American Marketing Association of America, "Calendar year marketing plans that are in full execution mode by February 1st tend to yield 84 percent stronger [branding and sales] results than calendar-year plans that have delayed starts."
If that isn't enough motivation to play a little marketing catch-up, we don't know what is. With innovative planning based upon known trends in marketing, with an added measure of new and advance strategy planning, you can go from contemplatively hoping your annual promotions produce sales to confidently safeguarding they will.
Simply put, if you and your marketing staff (or your PR and advertising agency) have not yet honed your 2019 marketing plan's strategies and deployment schedule, stemming from lessons learned during the past year, take the plunge into the promotions and publicity pool- feet first.
Assessing what was accomplished in 2018 as well as that which can be improved in the new year is an indispensable exercise. Doing so can yield a marketing roadmap to avoid potholes and roadblocks, with the goal of generating new forms of reach and marketability "on brand" and "on budget."
Some questions to ask include:
How does the public – or our industry sector(s) – perceive our business, and how can we gain higher levels of our targets' trust?
Was our brand visibility strong enough in 2018?
Did our 2018 marketing campaigns vigorously communicate exactly how our business addresses the "needs" and "wants" of our customers, clients and prospects?
Did we reach our sales goals last year?
Did we track our marketing campaigns to know what worked best, and what didn't work well enough, or at all?
If you are a business owner or marketing manager, and while reading this blog, you answered "no" to any of these questions, 2019 is the year to begin setting and implementing new strategic marketing goals to make your business' voice heard through stronger, clearer methods.
As a national public relations, integrated marketing and advertising agency, our primary goal is to walk our clients into the new year feeling confident and informed about their presences in their business-to-business and / or business-to-consumer marketplaces. This is helped by reviewing where their businesses and brands stand in the media landscape and among competitive brands.
In order to realize this level of information and forecast success for the coming year, it is essential to develop traditional and digital marketing, publicity, advertising, and social media plans to make 2019 your business' best year on record.
Where to Begin?
We've been thinking a lot about what we can expect to see in all areas of marketing, public relations, media relations, social media, and advertising in 2019; and, because of this, we have compiled a few predictions and points of advice for improving your strategic communications plan in the new year.
While there are near-countless ways to find the light at the end of the proverbial marketing tunnel this year, understanding these four, cornerstone questions and answers can benefit you with a vigorous start.
What will be the key marketing trends to keep an eye out for in 2019, and how can my business use the trends to our advantage?
For our agency and its clients, we don't plan on 2019 being a year of complacency. In order to jump ahead of competitors, it is essential to begin exploring the trends and benefits of digital marketing in the new year. The explanation for using digital marketing in 2019 is simple: Your competitors are likely using Search Engine Optimization (SEO), Search Engine Marketing (SEM) or social media marketing to positively position their brands, products or services in the online marketplaces in which they conduct business.
We're sure that at some point in time, you've heard from a friend or colleague the difficulties in utilizing digital marketing tools, and how convoluted SEO and SEM can be. While not an easy task, we feel that businesses with an agency who understands the inner-workings of these digital marketing tools are bound for success in 2019. At ECPR, we spend many hours a week formulating key search terms, writing and re-writing our client's website or blog copy to conform with key words, and then finally analyzing the results- all so our clients are competitively positioned to their competitors through search engines and social media.
Ultimately, your digital marketing program should boost the frequency and quality of Search Engine Results Pages (SERP) for your business and brands. SERP involves web pages being displayed by Google and other search engines in response to search queries. When someone searches online information (say, about products or services), they search by using certain words and phrases. The most relevant and content-rich website pages are "served" or show up as a result of the user's search. Obviously, the linked website pages that are served closest to the top of all SERP are the ones your potential customers or clients are most likely to click.
Engaging, informative and keyword-focused content written and posted in rife fashion on your website, blog and social media channels should be the name of the game for your marketing team (or agency) in 2019. Endemic, fresh content about your brand that is posted on your owned media channels, not to mention external channels and websites, should harmonize with your active Google Ad Words campaign.
Writer's note: Keep our blog in your RSS feed for an upcoming "Google Ad Words 101" article.
The second key marketing tool, which is also trending these days, you should not only pay attention to, but seriously consider for your business. It is influencer marketing. Through the rise of various free-media platforms, influencer marketing has seen a large spike in the last five years. In a recent study conducted by Linqia, an influencer-marketing research firm, marketers across the country are increasing their influencer marketing budget as much as 39 percent in 2019.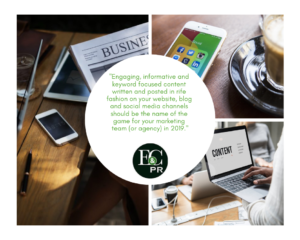 With a general rise in consumer distrust, many brands are looking to influencer marketing to help drive sales by gaining or regaining customer confidence in their brands. In 2019, we recommend targeting influencers who aren't necessarily the most popular, obvious or mainstream in your respective industry. Rather, align your brand with the individuals and media outlets with the highest engagement and influencer rates among your target audience.
By using this ECPR approach to influencer marketing, you'll be creating a more focused message to interact with your target audience, albeit indirectly through the influencers your customers or clients already know and trust. This breeds new connections and forms of engagement, which can ultimately lead to brand trust that equates to sales in increased numbers.
How will people consume media in 2019, and how do I make this to my brand's advantage?
The key to finding publicity success in 2019 is understanding the media platforms in which your target audiences are most likely to receive their information. Through our research, we've learned consumer media is making a strong, swift and rather obvious, shift to digital, whereas trade media is taking a slower, more calculated approach towards digital and online media.
In the numerous industries in which we represent clients, we have noticed multiple, well-received trade publications making these digital-friendly efforts. As a trade professional, you often need as much information as possible to stay afloat and informed in your industry. And sometimes, all that needed information cannot fit within the pages of a print magazine.
This points to the fact your B-to-C and B-to-B targets are consuming both print and digital / online media like never before. The growing or evolving inclusion of digital and online content means your customers or potential customers now have more ways to learn about your business and its unique selling propositions.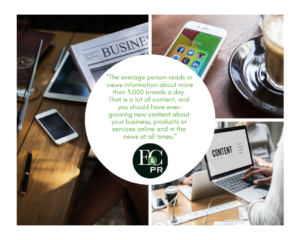 For example, the former design-trade publication Editor at Large has shifted to a much more digital-friendly approach, dropping their original print namesake and becoming a multi-platformed, digital-friendly entity, entitled Business of Home. Although still producing a quarterly print magazine filled with great content, they have ventured towards other mediums of communication, and have fully taken advantage of the podcast-craze that has become extremely prevalent across consumer and trade media alike.
In addition to the podcasts that feature well-to-do design professionals on a weekly basis, their online platform is jam-packed with audio and video features, lookbooks, extensive event recaps, and other content that you simply can't fit into a print magazine.
Because of this digital and online growth, as well as the lack of word counts and space constraints on digital and online platforms, the need for content production becomes that much more a priority for your business when looking to score publicity. In order to consistently secure quality media placements, you will want to consistently produce quality press releases, social media and business, product or professional service announcements.
We, at ECPR, call this demand for creative media the "content monster," and the monster is always hungry for news and information because people cannot seem to get enough. How do we know? The average person reads or views information about more than 3,000 brands a day. That is a lot of content, and you should have ever-growing new content about your business, products or services online and in the news at all times.
In 2019, make it a top task on your list to feed the content monster with a schedule of press and digital marketing campaigns, or seek a PR firm like ECPR to take care of the need for you, because the desire among people for new content is not slowing down any time soon.
How can my business utilize social media most effectively in 2019?
As a full-service creative agency, we've witnessed the role of social media and the time spent creating unique social media campaigns increase in the past five years. In order to keep up with the trend and its demands, we make sure to constantly stay on the beat of all-things social media. Through our experience and research, we believe the social media platforms with the largest impact in 2019 will easily be Instagram and YouTube.
It's no secret that humans are visual creatures. So, when trying to market your product or service, what better way to show potential clients and consumers what you can provide them by literally showing them via photos and / or videos? Our clients and friends in the interior design, architecture and real estate development industries have taken note of this trend and are beginning to focus primarily on photo-sharing platforms, such as Instagram, while sometimes balancing their LinkedIn and Facebook accounts.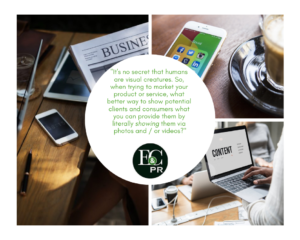 Video has also drastically expanded its role in the social media realm. A publication staff with whom we have a great relationship, Architectural Digest, is one of the media companies at the forefront of this newer form of content creation. Through their video-tour series, where they profile showrooms, hospitality settings and homes, AD is able to extend its reach beyond the pages of the magazine and onto YouTube, where video can then be shared across Facebook, Twitter and LinkedIn. Just think about the impressions!
Social media, an arm of digital marketing, has given rise to the restructured marketing of brands, products and services by implemented digital technologies of a socially conscience nature. If your social media program did not lead to realized connections with your existing and potential customer bases last year, initiate a more authentic approach to your posting strategies. For every one-way social media dialog you had on your Facebook, LinkedIn or other channel in 2019, change the focus from telling your fans and followers what you want them to know. Initiate new two-way conversations by asking them what they would like to gain from your business and how they'd prefer to engage with your brand.
Putting the internet to work and fueled through mobile phones, handhelds, online videos, and other digital mediums, marketing teams can incorporate digital platforms and strategies to maximize their promotions. But, many marketers have only yet to implement one or two facets of digital and social media marketing, whereas the reality involves vast prospects to maximize the concept to help reach and win new customers or clients.
In the upcoming year, what kinds of advertising will draw the interest of potential consumers and clients for my business?
Traditional forms of advertising, when used alone or as a singular focus for a period of time, is proving to be less and less successful in spreading messages from business to consumer, and from business to business. Similar to the direction social media is heading, digital advertising is likely to remain the most impactful and engaging advertising platform heading into 2019. Of course, the trend of digital advertising is most successfully executed when combined with other forms of marketing in a fully integrated program plan.
For example, companies across most industries are ramping up their digital video advertising budgets to adjust to competitors' spending habits; and, according to a recent eMarketer report, digital video ad buys will account for 50 percent of total video ad budgets in 2019, with mobile and social video ads appearing as the top forms. Though, in the truly results-oriented case studies, we see the convergence of digital video advertising with one or more forms of print or traditional marketing.
So, what does this mean for your business? Once again, studies like these show the importance of understanding how your clients and customers are consuming all forms of media. Without understanding this rather basic idea, finding ways to connect to your target audience can be nearly impossible.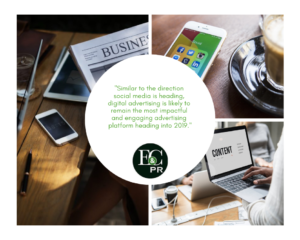 Our trained media professionals at ECPR have been closely monitoring this ongoing trend and believe the best way to utilize digital video advertising is through creative content building and advertorials. Consumers and trade professionals alike are looking for highly-relevant, engaging video content that offers them more than a product or slogan. This remains especially important when delivering digital video ads through mobile and social, as these two platforms travel with a consumer or client wherever they go, by way of smartphone or tablet.
Still, if this were enough, no roadmap would be needed. It is the integral combination of a well research and meticulously developed integrated marketing plan, that gives rise to the union of multi-faceted advertising and publicity that produces an overall brand story.
What will you decide to improve in 2019?
If your improvement strategy focuses on any of the above ideas, they are not easy challenges to tackle by yourself, while also trying to run a business or manage sales and marketing at large. By working with a full-service integrated communications agency such as ourselves, you can make certain your 2019 will be filled with marketing and media victories, ones that will improve upon the past and track quickly toward a productive and prosperous future.

We'd enjoy hearing from you. Share your questions and thoughts with us in the comments section, or reach out to us directly through the "Contact" page of our website above.