Here are Some Quick Tips to Guide you for Getting Started with Public Relations
Like most businesses, the days turn into weeks and the weeks turn into months. It's already almost November, and many of you are probably still shaking your heads wondering when and how best to enact those 2019 marketing plans you and your team put into place.
As new products or services are introduced or projects are completed, often the primary challenge is to tell the brand's story, so it reaches the maximum targeted audience- all while working with specific budgets to achieve strategic sales results.
It can be daunting if you do not know where to start; but, by following the simple steps below, you can be well on your way to achieving well-qualified leads and quantified sales.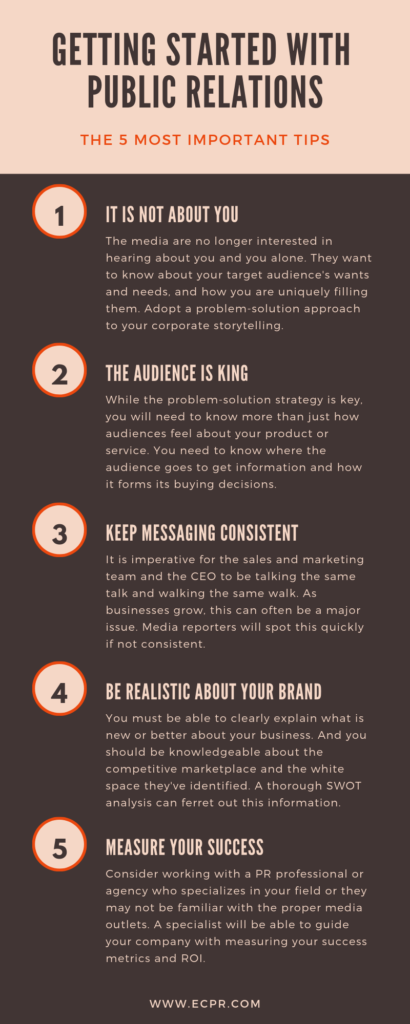 We hope you have found these tips to be helpful. The next step is implementation while there is time remaining before year end results reports are up for review.
Eberly & Collard Public Relations believes how you are perceived by your clients, customers, investors, subsidiaries, stakeholders, peers, the media, and other integral groups is what makes them purchase your products or services, offer their partisanship support, and, ultimately, helps fulfill your budget and revenue objectives.
Our service model begins with a constituency-based approach to all aspects of public relations and integrated marketing. This is accomplished by thoroughly examining our clients' target audiences' decision-making processes, purchasing behaviors, product / service opinions, and brand awareness levels.
This is the premise upon which we enact comprehensive integrated marketing programs for our clients, complete with quick-acting, creative and strategic campaigns to communicate product or service and business stories.
If you or your company leaders seek to be regularly quoted as through-leaders and experts in the publications and websites your customers, clients or prospects read…or your products or design projects are missing out on promotion or publicity, contact us for an assessment of your integrated public and media relations needs.