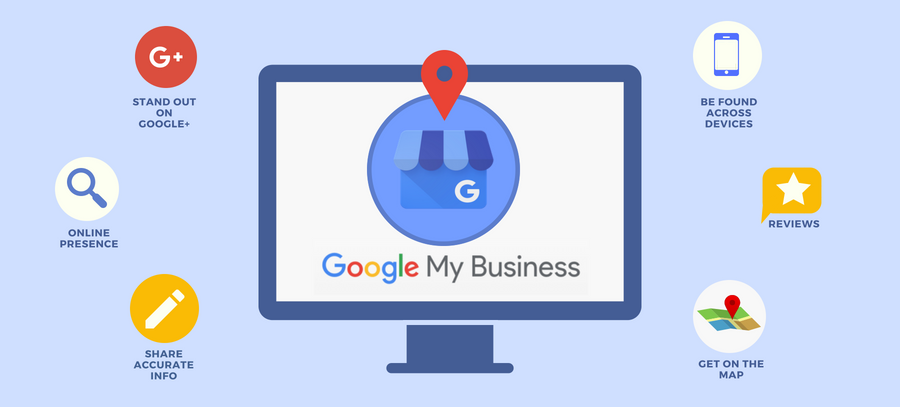 "Best hotels near me"… "Landscape and garden stores close by"… "Top architecture firms in my area"…
You likely are familiar with entering search terms, such as these examples, into Google to find and research local businesses, products or services. The same is true for your customers. According to HubSpot, 46% of all Google searches are seeking local information. To put that in perspective, almost half the time people utilize Google is spent searching for businesses nearby. So, how can you ensure your business appears in local search results?
Enter: Google My Business.
Google My Business (GMB) is a free business listing that can help consumers in your local area find your business on Google Search and Google Maps. It presents them with a summary of key information about your business, including a description, address, phone number, website, photos, reviews, and more. GMB has quickly become an SEO game changer as one of the most powerful tools you can use to strengthen your business's local online presence and positively influence the purchasing decisions of new and existing customers.
By the way, even if you seek customers and prospects from other cities and states beyond your business's close physical proximity, you still ought to utilize GMB to help clearly communicate your locale and contact information. GMB is a top means for posting and promoting your phone number, website address, positive reviews, key messaging, images, and more.
Optimizing your GMB listing brings several benefits to your business. When properly optimized, it can improve your ranking in search engine results pages (SERPs) and on Google Maps. With a stronger presence in the SERPs, you have the potential to reach new customers, drive traffic and sales, and increase the visibility of your brand or business.
Here are five steps you can take to optimize your GMB listing.
Step 1: Verify your business.
The first and foremost reason to verify your GMB listing is so you can fully manage your business information in Google Search and Maps. If you don't verify your business, you won't have the ability to manage, edit or protect your listing. Another reason why verifying your business is of utmost importance is because, according to Google, verified businesses are twice as likely to be considered reputable by users. When your GMB listing has been confirmed and authorized by Google, your business will appear more trustworthy and rank higher in the SERPs.
There are a few different ways to verify your business on Google, such as by phone or email. However, most businesses verify by mail. The "by mail" verification process involves requesting and receiving a postcard from Google. The postcard will have a verification code that you will need to enter and submit from your GMB account. After entering the verification code, you should review your information, make any final changes, and confirm all details are accurate and up-to-date. Once your business is verified, you can edit and complete your profile, add posts and photos, and respond to reviews.
Step 2: Complete your profile and keep it up-to-date.
Another essential element of a well-optimized GMB listing is a complete profile. You should complete every section in detail and include as much local information about your business as possible. It goes without saying that your business name and description should be completed immediately so searchers can quickly learn who you are and what you have to offer.
Did you know, according to HubSpot, 88% of consumers who search for local businesses on a mobile device either visit or call within 24 hours? Thus, adding your contact information, including street address, phone number, email address, website URL, and hours of operation, should be at the top of your profile checklist. You do not want to miss out on visits or calls from potential customers by simply failing to fill out the contact fields of your profile.
Additionally, you should select your business category and service area, as well as upload your logo and other high-resolution photos. This will allow searches to gain insight into the specific industry in which you work, where your business provides services, and your brand imagery. It is also recommended to enable messaging on your GMB listing. Doing so allows customers to communicate and interact with you, which can result in leads, appointment requests and queries about your products or services.
Completing your profile will improve your local search ranking and increase the number of actions that customers take on your listing. After you complete the priority sections of your profile, you can start thinking about the ongoing aspects, including promotional posts and customer reviews.
Step 3: Create a content posting schedule.
An often-overlooked feature of GMB is the ability to share content about your business via posts with photos and links. There are a few different types of posts you can publish. From business updates to special offers to event promotions, you have the option to choose which type of post will best deliver the message you are trying to convey.
One of the most efficient ways to stay on top of your GMB posting game is to create a content posting schedule. This includes plotting out the dates, determining the topics and writing the content in advance. High-resolution photos and linked call-to-action buttons, such as "learn more," "sign up" or "order online" are highly recommended. These additions can make your posts stand out and drive customers to your website or other relevant sites you want to call attention to.
It is best to post at least once a week as GMB posts automatically expire after seven days. They will remain archived in your GMB dashboard, but they will no longer appear on your listing or be viewable by the public. So, you should make it a goal to post regularly, keeping live content on your listing whenever possible.
An optimized GMB listing will get your posts in front of relevant searchers, offering them the opportunity to learn more about your business, products or services.
Step 4: Collect and respond to reviews.
Once you have a stronger presence on Google and begin receiving reviews, you should always go the extra mile to respond to each one. Doing so shows your business is engaged and responsive to feedback, which, ultimately, helps build customer trust and loyalty.
You should also encourage your customers to leave product or service reviews on your GMB listing. You can request a review in person, on social media, via e-newsletters, etc. The key is to make the process as simple and accessible for your customers as possible.
Pro Tip: The "Get more reviews" widget, which lives in the GMB dashboard, generates a link that you can share with your customers, making it quick and easy for them to review your business on Google. It takes them directly to your listing, a review form pops up, and all they have to do from there is fill it out and submit!

Research shows that positive reviews make 91% of consumers more likely to use a business, and the average consumer reads 10 reviews before feeling able to trust a local business. Consistent and quality reviews are invaluable. So, don't be afraid to ask for and, more importantly, respond to customer reviews.
Step 5: Evaluate Google's upgraded GMB profile promotion.
Google recently rolled out an "upgraded" GMB profile promotion, which adds the Google Guaranteed badge to your profile, for $50 per month. The badge adds an interest factor to business listings on which it appears. So, if you are looking for ways to stand out among your competitors, you may want to evaluate this promotion and keep your eyes peeled for any updates as they become available.
GMB is an essential tool for businesses that want to improve their local search ranking on Google. There are many benefits of an optimized GMB listing. It is one of the best ways to improve your local SEO, increase your online visibility, and provide new and existing customers with valuable information about your business. Contact us to learn more about how we help our clients with search engine optimization and digital marketing.