As many public relations practitioners know, our work in regard to media campaigns can often be misconstrued with its relation to advertising. Advertising is a viable means to promote a business. However, securing publicity based editorial and media coverage about the business and its products or services can yield a near-limitless strategy for publicizing the company and its key marketing messages.

In the November issue of
Civil + Structural Engineer
, our ECPR team secured the following cover and feature story for one of our clients, the talented Stevens & Wilkinson.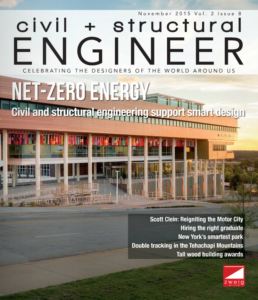 The photos of the Darla Moore School of Business at the University of South Carolina have enough appeal to speak for themselves, and Stevens & Wilkinson's engineering design work has become a thrilling project featured by this and many other magazines, a project that is now on the path to becoming the largest net-zero energy building the southeast. – Click to enlarge the images.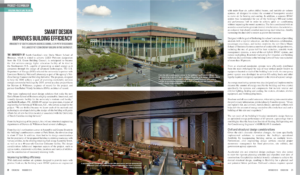 The new Darla Moore School of Business was designed with the goal of furthering the school's mission of providing students with top-tier education, and is slated to achieve LEED Platinum designation from the U.S. Green Building Council.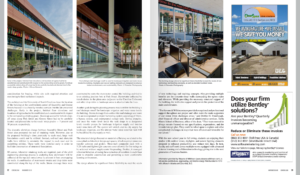 We would like to give a huge thank you to the editors at Civil + Structural Engineering for working with us on this cover story, and congratulations to Stevens & Wilkinson for an impressive architecture and engineering project.
Uncover the ways in which we can assist your design, construction, urban planning, commercial real estate development, engineering, and / or architecture business with strategic, dynamic public / media relations and integrated marketing: https://eberlycollardpr.com/our-industries.asp