Our blog followers often ask us about media coverage our team secures with or for our clients. Editorial placements for us are an everyday practice, a part of our integrated marketing services our team enjoys and embraces. Campaign results run the gamut from trade publications, journals and industry newsletters to consumer magazines, newspapers and blogs. Then, too, there are on-air segments via radio and television when applicable for many of our clients.
Today's blog post gives you a glimpse at our talented client Ami Austin, President of Ami Austin Interior Design, who was recently featured in two regional living / lifestyle magazines. Thanks to all of our editor friends at Memphis Magazine and At Home Memphis & Mid South for working with us and Ami for these great stories.
At Home Memphis & Mid South
We secured this article and interview with our client for inclusion to At Home Memphis & Mid South magazine regarding design ideas and advice for dining rooms. Be sure to take a look at the November issue to see the fullfeature story and learn more about Ami Austin Interior Design by clicking the link below.
To view the full article and magazine issue, please visit: www.ow.ly/UeJH7. (See pages 40-45 and 97).
Being a renowned designer in Memphis and the entire region, our client initially secured this article, while our team helped facilitate aspects of the interview and planning process. The November issue features an article about one of Ami's client's, Dr. Jonathan McCullers, who sought Ami's interior design services to update his three-bedroom townhouse to better reflect his tastes and lifestyle. Click the link below to see the full feature story and learn more about the McCullers' home design story.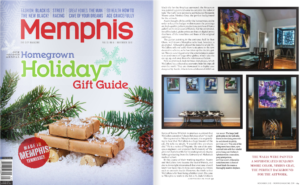 To view the full article and magazine issue, visit: www.ow.ly/Uix5c. (See pages 65-69 and 99).
For designers, architects and builders, take a moment to read about our specialization in publicity and branding.
Editors and Journalists, contact us anytime you seek interior / exterior design-build content or experts in the design, architecture, construction, furniture, kitchen and bath, and similar industries as quotable sources.