Beginning in 2016, the Smithsonian Institution in Washington, D.C. will undergo a proposed 20-year renovation. The master plan gives new life to the Smithsonian castle, adding expanded visitor services, new mall-facing entrances to the National Museum of African Art, and the Arthur M. Sackler gallery. Site enhacements will also include improved visibility and access from the Freer Gallery of Art to the Hirshhorn Museum and its neighboring sculpture garden.
The lead architecture firm
Bjarke Ingels Group (BIG)
recently released renderings of the completed project mentioning, "The centerpiece of the proposed South Mall master plan is the revitalization of the iconic Smithsonian castle."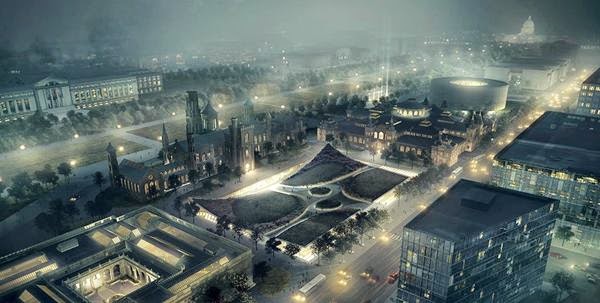 Bjarke Ingels Group reveals Smithsonian master plan for Washington, D.C.
Image courtesy of BIG / The Smithsonian Institution.
In addition to updating the castle, another goal of the project is to instill more cohesion between the 11 museums around the National Mall by establishing more retail, cafe and public gathering spaces. BIG founder and the lead architect Bjarke Ingels believes these additions will "resolve the contradictions between old and new, and [help] to find freedom within the boundaries of strict regulation and historical preservation."
Ingels plans to execute this by producing new links between the various specialized, planned, operational, and managerial requirements that will usher the Smithsonian South Mall campus into the future, while maintaining its firm historical origin.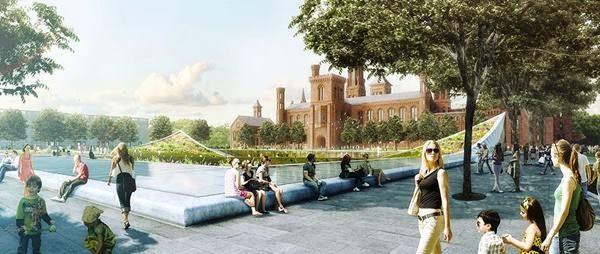 The castle as seen from the entrance of the National Museum of African Art.
Image courtesy of BIG / The Smithsonian Institution.
As a whole, the estimated cost of the project is $2 billion, which will be funded by private and federal investments. Secretary of the Smithsonian Institution Wayne Clough says, "Bjarke Ingels Group has given us a plan that will…visually attract visitors who will have an unparalleled experience."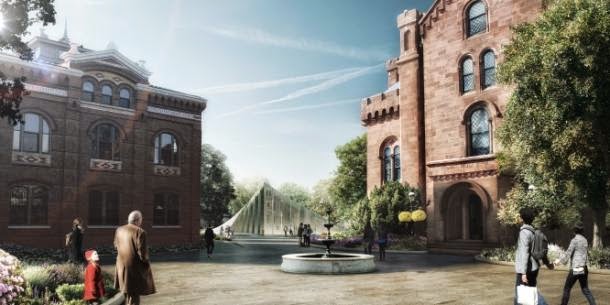 The redesign seeks to establish clear entrances and connections between the site's various museums and gardens. Image courtesy of BIG / The Smithsonian Institution.
The Smithsonian Castle
, which opened in 1855, currently serves as headquarters of the institution as well as a visitor's information center. The Smithsonian Institution is the world's largest museum and research complex. Located in Washington, D.C., the national landmark consists of 19 museums and galleries, the National Zoological Park and nine research facilities.
For more about the renovation, click here to visit the Smithsonian Institute project profile on the Bjarke Ingles Group website.